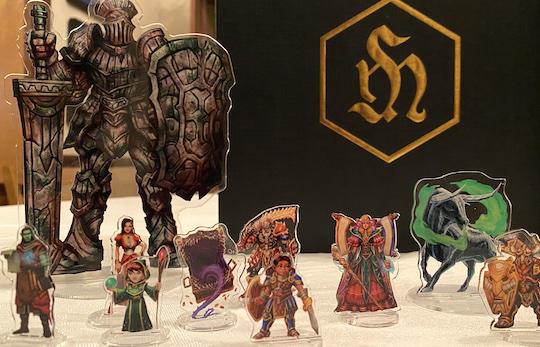 Don't want to spend the time painting that legion of goblins? Not a fan of toting around a tub full of tabletop miniatures? We believe we have found the solution! The folks at Dungeon in a Box launched a spectacularly successful Kickstarter. We were so excited about Skinny Minis that we were among the many backers. Now that they are shipping, we got our hands on 80+ of their new Skinny Minis. And we love them.
UPDATE (2/4/2021): Ordering is now open at the new Skinny-Minis.com website! From heroes and villains to forest terrain and spell effects, they're all available for order. Until February 15, 2021, the discount code MINI-HERO will score you 25% off.
You can also get smaller sets through the Dungeon in a Box subscription, though.
What Are They?
When we think of miniatures for role playing games, we first think of three dimensional plastic or metal figures. Your local game store no doubt carries dozens of unpainted miniatures from the likes of WizKids or Reaper. And these days, WizKids has been producing a sizeable number of pre-painted minis, though they tend to cost two or three times as much as the unpainted ones.
Such minis come with some downsides. The mini statuettes are hard to store, and even harder to carry over to your friend's house for that Friday night DnD session. Painting is time consuming, and pre-painted miniatures are expensive.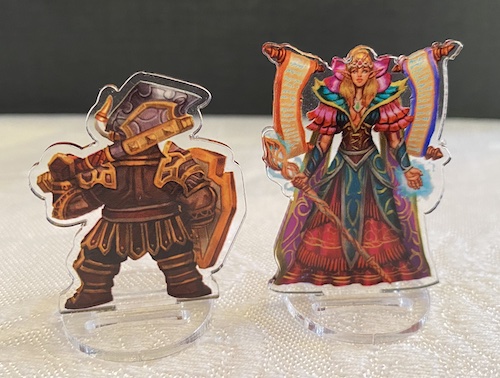 This is where Skinny Minis come in. Precision cut from clear acrylic, Skinny Minis have beautiful and colorful artwork front and back. Every mini can be easily snapped into a clear acrylic base. As you can see from the picture above, the figures range from small to gargantuan. A gnome comes in at about one inch tall, while the giant walking statue is a whopping 6 inches. They are sized appropriately to play side-by-side with standard plastic or metal miniatures. (That is, they are 28mm scale.)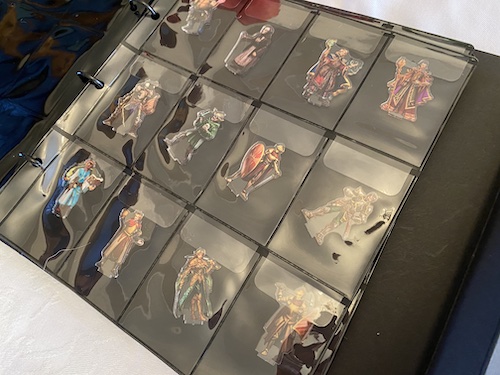 Those who ordered during the Kickstarter also had an option to buy a storage binder, pictured above. Vinyl sleeves keep each mini in their own little pocket. The one pictured above has over 80 Skinny Minis inside, and it's still not full. The binder is easy to store on a bookshelf, and can be conveniently tossed in a backpack.
What We Like
We do love to paint our own minis. But it was immediately clear to us that Skinny Minis are awesome. It's hard not to fall head-over-heels for these handy and beautiful miniatures.
Sized to be compatible with standard grids (small/medium take up a 1" grid square).
Great selection of minis, including heroes, NPCs, monsters, mounts, and props.
Colorful pallettes and beautiful designs.
Detachable bases sized appropriately for the minis (small, medium, and large).
Storage binder with a magnetic closure and vinyl pocket sleeves.
MUCH cheaper than buying standard minis.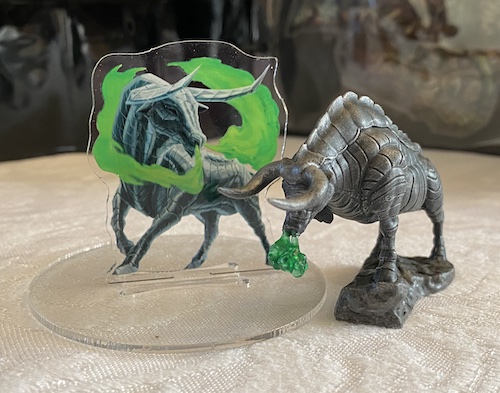 While we were never big paper cutout users, we do think there is an interesting point of comparison here. Paper miniatures are cheaper while Skinny Minis are sturdier and probably more attractive. But also, the two-dimensional nature of each makes it easy to mix-and match but still have a nice tabletop aesthetic. We think Skinny Minis would look smart alongside cut-and-fold terrain.
What We Don't Like
Really, there is just one thing we don't like: Sometimes getting the mini into the base can be a bit of a hassle. When inserting or removing the minis into their slotted bases, we have occasionally broken a base.
We haven't been able to tell whether this is because the size of the slots vary base-to-base, or if we are just inserting the mini incorrectly.
Breaking bases is rare, though. Most of the time, the mini snaps easily into the base and is removed just as effortlessly. We still have far more bases than we need for a given tabletop session. So we doubt this will be a deal-breaker.
Bottom Line
Skinny Minis are a fantastic component for table top game play. We feel fortunate to have gotten in on the Kickstarter for this one, and are looking forward to the day Dungeon in a Box makes Skinny Minis generally available. For now, though, there's always the subscription box. UPDATE: They are now available at Skinny-Minis.com.