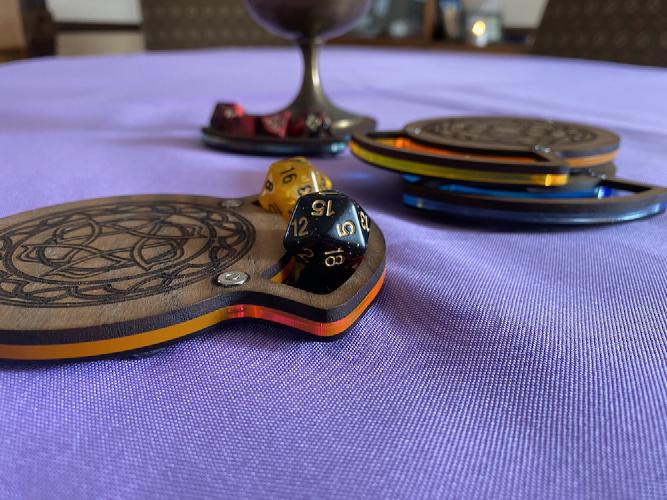 Here at Loot & Liar, Etsy is our favorite place for finding fun and creative D&D stuff. We would like to share some of our finds with you.
We love our dice coasters from C4 Labs on Etsy.
A little over a year ago, we bought a few sets of these–one for every person in our party. They are a big hit. We purchased the Celtic Knot pattern on walnut in assorted acrylic colors.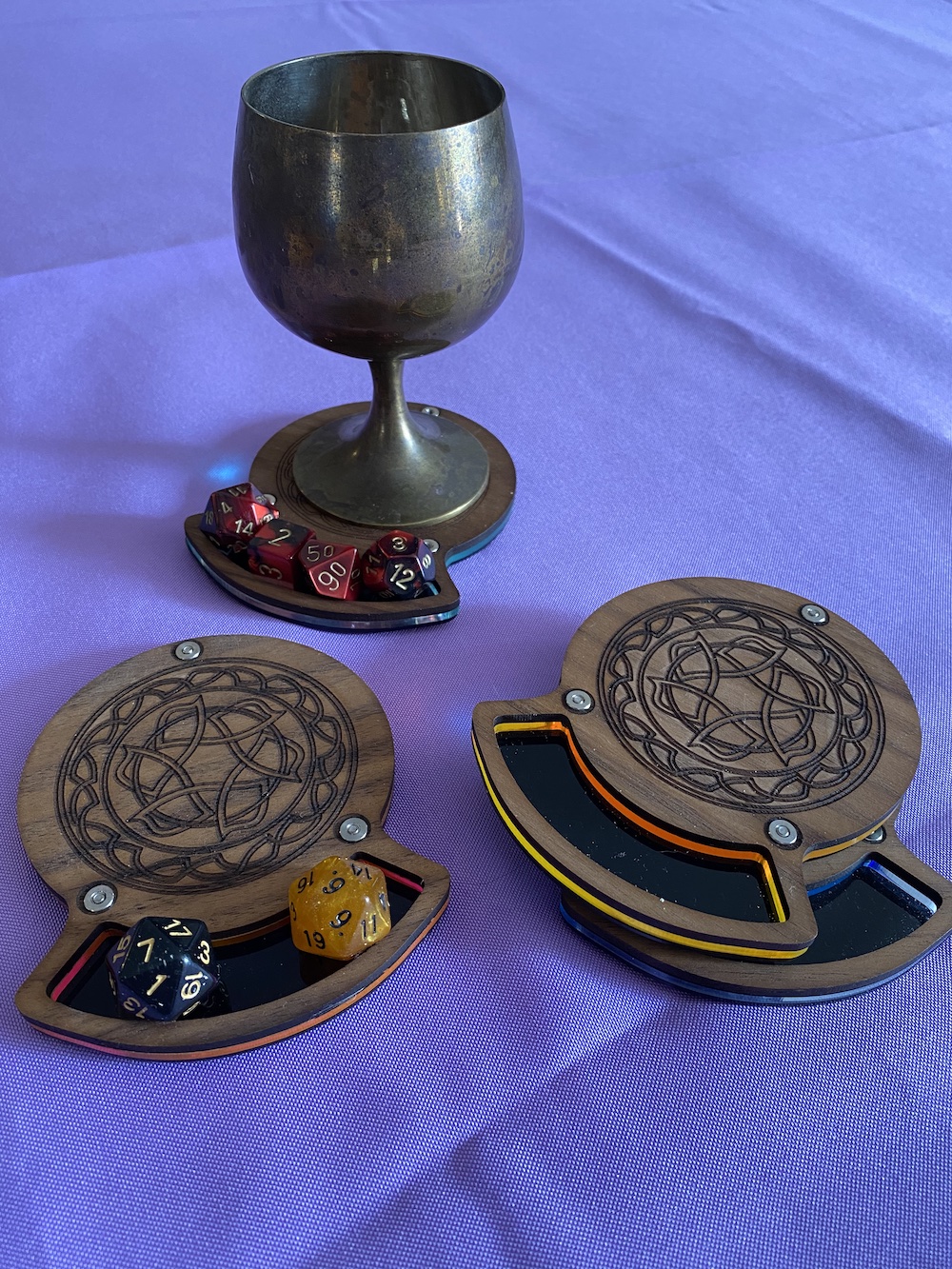 Each coaster is large enough to comfortably hold four dice. (If you want to hold a full set C4 Labs has got you covered.) Most of our party use the coasters the same way: they keep a couple of d20s and their most frequently used damage dice. The best thing about the coasters is that they lend to a tidy table. Keeping a drink and the commonly used dice together reduces table clutter.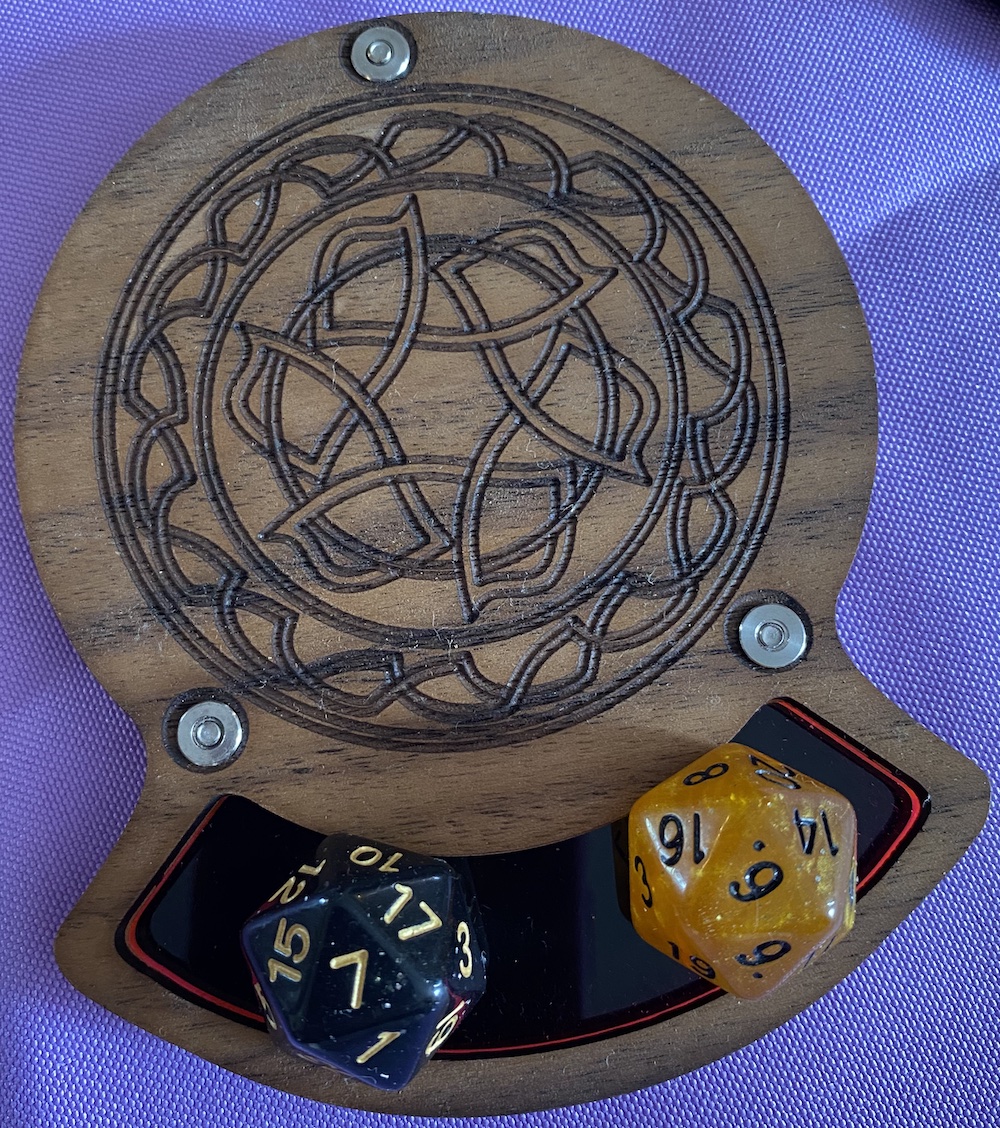 The coaster is generously sized, easily holding a pint glass or a water bottle. The pattern is etched into the coaster. The top layer is wood. A colored transluscent acrylic layer is sandwiched between the walnut top and a solid black acrylic base. Six nubby feet keep the coaster off the table and prevent it from sliding around. If wood's not your thing, there is also a version topped with black acrylic instead of walnut.
After a year of use, we can say that they hold up extraordinarily well. Of the eight, none have visible water damage or warping. They look and feel like new. (Note, though, that these don't get everyday use. We just use them when playing D&D.)
C4 Labs makes other accouterments for TTRPGs, including dice trays, towers, and vaults. There's even an epic 18" x 18" multi-player Monumental Dice Tray.
Finally, we have learned our lesson: Never again will we take pictures with a purple tablecloth.
---
Note: We originally bought our coasters at C4 Labs' Etsy store. At the time of this writing, the coasters are only listed on the C4 Labs website and not on their Etsy shop.